10 Adventure Sports Destinations In India For Adrenaline Junkies
One of the most beautiful aspects of India is the variation that it has, from gigantic mountains to the rough plateau terrains, from waterfalls to rivers, forests and coastal shorelines. Hosting such a diversity, India has all the ingredients for adventure, and what better way than adventure sports to explore and live the thrill of your life in tandem with nature. Based on such geographical diversities, India hosts a plethora of sports for the adventure junkies to try out!
1. Paragliding @ Stok Kangri, Ladakh
Stok Kangri is renowned as one of the toughest treks in India, but the thrill does not end there! Once you reach the pinnacle, you can go for paragliding and have a heavenly experience of flying over the Himalayas.
2. River Rafting @ Rishikesh, Uttarakhand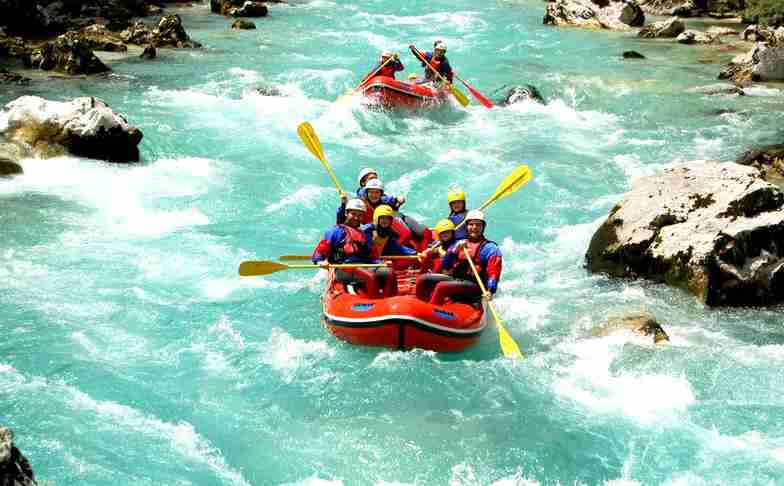 Rishikesh is the haven for adventure sports, with river rafting the top pick of the lot! The river ride will make you feel truly alive with all the twists and turns of the turbulent mountain rivers!
3. Parasailing @ Calangute Beach, Goa
Calangute Beach attracts tourists from all over the world due to its famous beach shacks as well as water sports. One can indulge in Banana ride, water-skiing, and the best of them all – Parasailing, to get a beautiful view of the entire shoreline from the top.
4. Skiing @ Auli, Uttarakhand
If you want to experience skiing, then Auli is the place! Located at the Himalayas, Uttarakhand, the height is 3049 above sea level to give you an exotic skiing experience from a vantage point.
5. Sky Diving @ Mysore
Arguably, the king of all adventure sports – Sky diving is the ultimate litmus test of courage! Mysore, Karnataka provides an amazing sky diving euphoria along with tandem jumps and accelerated free-falls.
6. Bungee Jumping @ Rishikesh
If you want to go for Bungee jumping, then Rishikesh should be on your checklist, for it provides India's highest bungee jump at 83 meters! Along with that, you can also experience flying fox and giant swings.
7. Scuba Diving @ Tarkarli
The world beneath the ocean is altogether a different experience, something which one does not get to see every-day. If you are curious to find out and explore, then Scuba Diving at Tarkarli, Maharashtra will give memorable moments with visual treats of exotic fishes, coral reefs, sea plants, dolphins and so much more.
8. Hot Air Ballooning @ Pushkar
Hot air balloon is something everyone has seen in the movies, but one can experience the same in real life as well and that too in our very own country. Hot Air balloons are major attractions at the Pushkar Hot Air Ballooning Festival, where one can float in the sky for one hour. It is India's first licensed hot air balloon festival and rest assured, it will give your some breath-taking views from the top!
9. Ice Climbing @ Gulmarg
Gulmarg is in Jammu & Kashmir, which is a well-known hill station among the tourists. During winters, the temperature falls below freezing point and the frozen water falls turn to ice-climbing adventure sport! A great way to flex some muscles and climb your way to the top!
10. Mountain Biking Kerela, Singalila Ridge
Mountain biking is every bike lover's delight and Singalila ridge in Kerala will offer you a unique adventure biking experience. Its humongous tracks and descents exhilarate the riders to the core which is why Singalila Ridge has become quite popular over the years.